THE MEDICAL TEAM enables senior communities to most effectively meet the needs of their residents. We can provide health care management services or work in partnership with management to provide a full range of personal care and supportive services for residents.
Our Services
Services for Residential Communities
We work with senior living communities to meet a range of important objectives aimed at meeting resident needs and improving occupancy. THE MEDICAL TEAM provides an important safety net to reassure residents and their families of the resident's well-being and security.
Through consultations with residents and families, we can coordinate resident's access to and suitability for a full range of healthcare and supportive services. We can provide any or all of the following:
Private Duty & Personal Care Services provided by our highly qualified aides. Private Duty and respite care are offered hourly and can include skilled nursing care for needs such as diabetes management. Assistance with personal care is often a critical need of seniors who wish to continue living independently. Services are tailored to the needs of each community.
Home Health Care Services (Medicare Certified) provided under resident's Medicare benefits. There is no charge to the resident for any Medicare services or for care coordination by our nursing staff. Our nurses can assist with functional assessments to ascertain the resident's ability to return home following hospitalization and to help determine a potential resident's suitability.
Health Screenings and Wellness Programs: Residents will enjoy our upbeat wellness programs offered by our healthcare professionals. Residents can "Converse with a Nurse" and discuss their healthcare needs at regularly scheduled health screenings such as blood pressure and blood glucose screenings. Additionally, flu shot programs, medication reviews and safety screenings are offered.
Skilled Nursing and High Tech Services, such as infusion therapy, are offered. These are available as part of our (Medicare Certified) Home Health Care Services.
Specialty Clinical Care Programs are offered for patients with specific diagnoses, conditions or rehabilitation needs. For example, our Behavioral Health program helps residents coping with depression and severe mental illness, including dementia; our Wound Care Management program helps patients with non-healing wounds or ulcers to care for and manage their wounds; and our Diabetes Self-Management and Education program teaches patients how to manage their diabetes and live a more healthy life with the disease.
Physician Services: We work with physicians to facilitate care to residents, including in-home physician visits, onsite consultations and a medical advisory role. If the community does not have an existing relationship with a physician group, we can introduce an appropriate group.
Rehabilitation Therapies: We coordinate with local therapy groups to provide physical therapy and occupational therapy services in senior residences.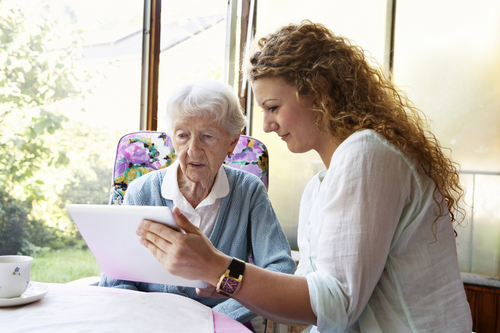 Program Staff
All staff are subject to stringent pre-employment screenings, including a criminal history check and employment reference verification. They receive a thorough orientation prior to being assigned and complete regular inservice education on a range of topics. Programs include infection control, body mechanics, patients' rights and responsibilities, incident reporting, communications, and emergency preparedness.
Health Care Management Services
THE MEDICAL TEAM partners with management companies to provide health care management services in senior communities. We provide all of the direct health care workers (aides and nurses) for residents as well as coordinate their care with the visiting physicians, onsite therapy clinic, and hospice providers. If desired, we can also offer housekeeping, dietary, security, and general administration.
This partnership allows the community's management company to keep their focus on running the facility, while we focus on providing residents with a full range of health care and supportive services. We have proven success in increasing occupancy rates and resident satisfaction and we offer institutional knowledge, administrative capabilities and financial stability gained from 35 years of experience.
"THE MEDICAL TEAM aides made my mother's transition in to her new home so easy and comfortable and we greatly appreciate this. She/We think the world of the staff."
– Adult child